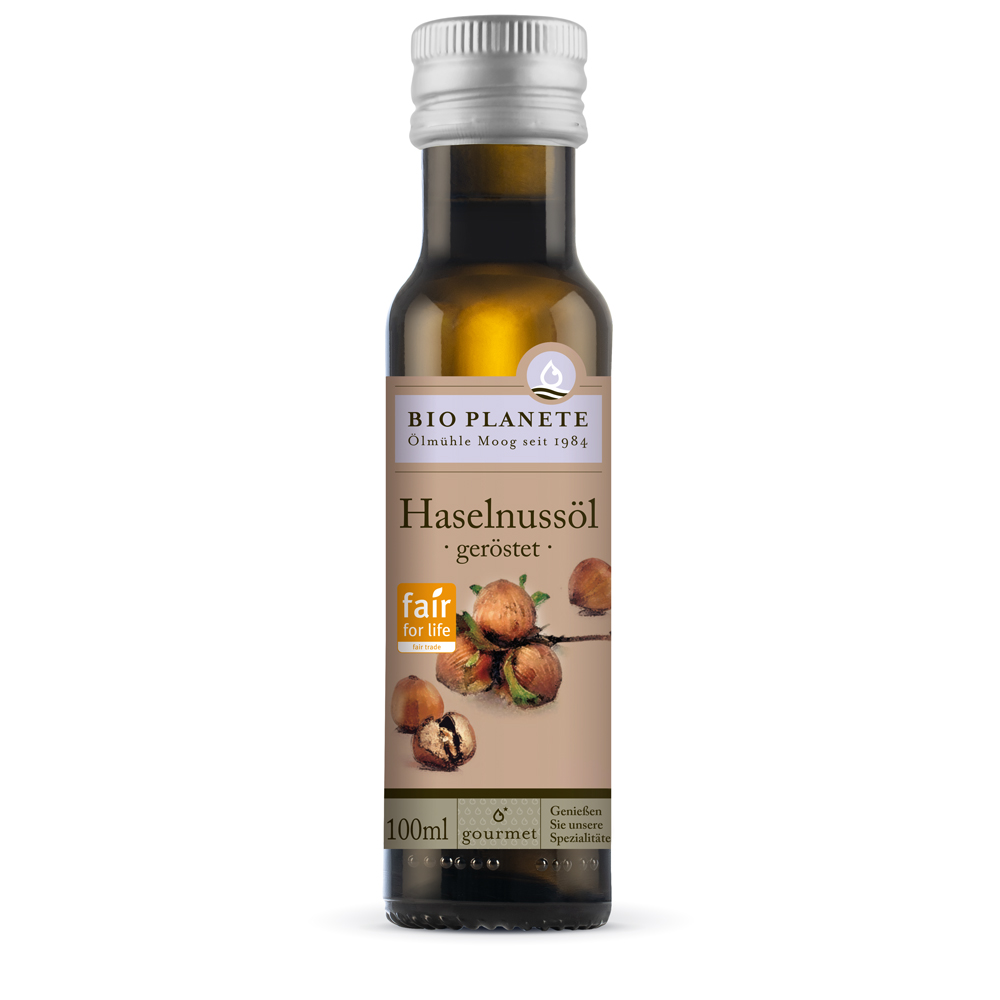 Hazelnut Oil
· Toasted ·
100 ml
The hazelnuts for our Toasted Hazelnut Oil mainly come from Turkey – the country with the largest production of hazelnuts worldwide.

In contrast to Virgin Hazelnut Oil, the nuts for our Hazelnut Oil Toasted are carefully roasted before first cold pressing. This roasting process effects a stronger aroma of nougat. Through this, the toasted version of Hazelnut Oil shows a clearly more intense taste than its Virgin »relative«. Certified according to the Fair for Life Standard, more information at www.fairforlife.org
Recipe ideas and use of Toasted Hazelnut Oil
The oil is especially suitable for improving pastries, desserts, and crêpes. Partially replacing the recipe's fat with this treasure of an oil will reward you with a delicious fragrance and a unique savor.
You are also welcome to try the Toasted Almond Oil and Toasted Sesame Oil.
Feeding Instructions
Suitable for vegetarians and vegans.
Allergy Notes
Produced in a factory where peanuts, sesame seeds and nuts are handled.
Storage Information
Store at room temperature and out of direct sunlight.
Heatability
Suitable for baking.
Product of organic farming
** For this product, the raw materials may in some cases originate from other countries. This especially holds true in cases of crop shortfall, or when batches of raw goods do not meet our quality requirements. In any event, the raw material are being tested by BIO PLANÈTE and are in 100% compliance with our strict organic quality requirements. The respective origin is always noted on the product label.
energy
3367 kJ (819 kcal)
of which mono-unsaturated
70 g
of which polyunsaturated
15 g
vitamin E
29 mg
(242 % **)
Average nutritional analysis for 100 ml
** % of daily reference intake (adults)
What conditions and standards are behind the organic seal on our oils?

An organic seal is a quality and test seal with which products from organic farming are marked. In 2010, a binding new organic seal was introduced throughout the EU, also known as the EU organic logo, which identifies food from organic farming (a star-shaped leaf on a green background).

This seal replaced the German state organic seal (green hexagon with "BIO" lettering), which had existed since 2001, with the same standards in terms of content. Due to the high degree of popularity of its predecessor, both seals are still often used today.

The use of this certification is strictly regulated by the publisher and is subject to ecological requirements. Compliance with the criteria by producers is ensured by a documentation obligation as well as regular sampling and examination of product samples. Compliance with the regulations is monitored in Europe by the responsible Eco-Control bodies.

Foods labelled with the organic seal must, among other things:
• Not be produced by or with/from genetically modified organisms
• Not to be produced with the use of synthetic pesticides
• Contain no more than 5% conventionally produced components (in exceptional cases, if ingredients are not available in ecological quality, in accordance with Annex VO)
• not contain sweeteners and stabilisers as well as synthetic colourants, preservatives and flavour enhancers
• not result from monotonous crop rotations (two-, three- and four-field farming)
• and much more: more information on the EU Organic Label

What is behind the "Fair for Life" seal?

The "Fair for Life" seal certifies products from fair trade, environmentally friendly production and social responsibility. The programme has extended the definition of traditional fair trade: Fair trade principles can also be applied to regionally produced goods and domestic trade and socially responsible working conditions can be demanded along the entire trade chain. The seal places high demands on trading conditions and transparency of value creation.

The Fair for Life programme was developed by the Swiss Organic Foundation in cooperation with the Institute for Market Ecology (IMO) as an alternative fair trade certification programme to provide all producers and all products with the possibility of fair trade certification.

The aim of the Fair for Life programme is to improve the lives and living conditions of disadvantaged producers and workers on all continents, in all cultures and areas of production.

Further information can be found here: Fair for Life certification program