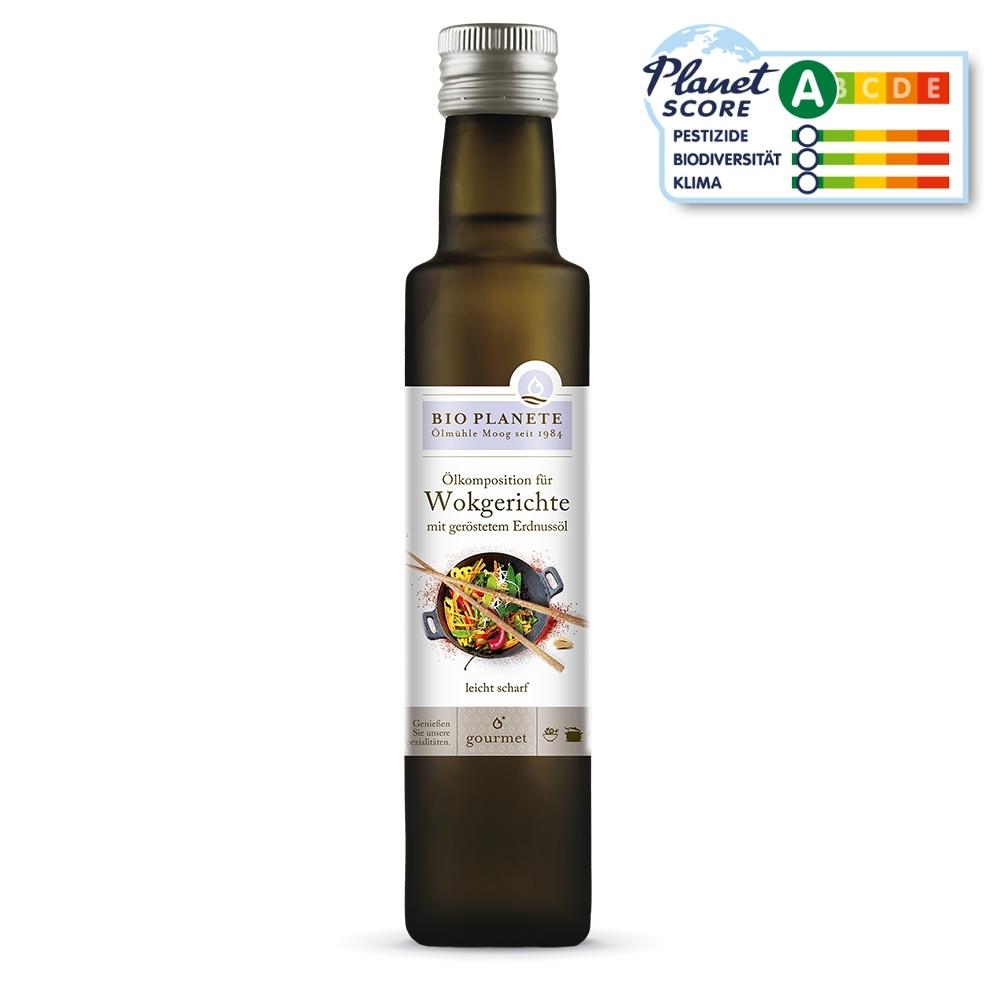 Oil Mixture for Wok dishes
· Specialties ·
250 ml
If you love Asian cuisine, this extremely versatile Oil Mixture for Wok dishes will bring a smile to your face: it is remarkably heat resistant, hence ideal for pan- and stir-frying. The unique savor is the result of a combination of chili and finely Toasted Peanut Oil. This mixture also contains Sunflower Oil, comprising monounsaturated fatty acids plus a high proportion of vitamin E, which constitutes this oil's great nutritional value. The essential fatty acid has been proven to contribute to a normal blood cholesterol level.
This oil is one of the first food products in Germany and France which has been rated with the Planet Score. For this eco-labelling, additional indicators are used alongside the life cycle assessment to better capture the environmental impact of food production. Read more about the Planet Score.
Recipe ideas and use of the Oil Mixture for Wok dishes
As a condiment oil, it sets robust culinary accents: With its aroma of roasted peanuts and a pleasant spiciness, it brightens up exotic dishes, such as vegetable stir-fries, curries, tofu- and meat dishes, as well as salads and dips. The Oil Mixture for Wok dishes is heat resistant and ideal for baking and frying.
Ensure that your diet is varied and balanced, and your lifestyle is healthy.
With our oil series "From all over the world" we take you on a culinary trip around the world. Also discover our BIO PLANÈTE Oil Mixture for Pizza & Pasta and Oil Mixture for Curry & Co.
Ingredients
Sunflower Oil*, Deodorized, Peanut Oil* Toasted (20 %), Chili extracts*
Feeding Instructions
Suitable for vegetarians and vegans.
Allergy Notes
Produced in a factory where mustard, sesame, soya, walnut and wheat germ oil are handled.
Storage Information
Store at room temperature and out of direct sunlight.
Heatability
Suitable for frying.
* Product of organic farming
** This product contains a finely composed mixture of different ingredients. As a rule, the main ingredient originates from the country mentioned here. Should the proportion of ingredients be equal, more than one country will be declared. Should any questions regarding product origin arise, please contact us: contact@bioplanete.com or +33 (0) 4 68 76 70 6
energy
3404 kJ (828 kcal)
of which mono-unsaturated
71 g
of which polyunsaturated
12 g
vitamin E
44 mg
(367 % **)
Average nutritional values per 100 ml / 3.38 fl oz
** Percent Daily Values are based on a 2,000 calorie diet.
Where does the vitamin E come from? Was it added to the oils artificially?

Vitamin E occurs naturally in cold-pressed cooking oils because the plants make this vitamin and, due to its chemical properties, it passes to the cooking oil during cold pressing. Incidentally, the following are especially high in vitamin E: natural Sunflower Oil, natural Safflower Oil and natural or roasted Almond Oil.

What conditions and standards are behind the organic seal on our oils?

An organic seal is a quality and test seal with which products from organic farming are marked. In 2010, a binding new organic seal was introduced throughout the EU, also known as the EU organic logo, which identifies food from organic farming (a star-shaped leaf on a green background).

This seal replaced the German state organic seal (green hexagon with "BIO" lettering), which had existed since 2001, with the same standards in terms of content. Due to the high degree of popularity of its predecessor, both seals are still often used today.

The use of this certification is strictly regulated by the publisher and is subject to ecological requirements. Compliance with the criteria by producers is ensured by a documentation obligation as well as regular sampling and examination of product samples. Compliance with the regulations is monitored in Europe by the responsible Eco-Control bodies.

Foods labelled with the organic seal must, among other things:
• Not be produced by or with/from genetically modified organisms
• Not to be produced with the use of synthetic pesticides
• Contain no more than 5% conventionally produced components (in exceptional cases, if ingredients are not available in ecological quality, in accordance with Annex VO)
• not contain sweeteners and stabilisers as well as synthetic colourants, preservatives and flavour enhancers
• not result from monotonous crop rotations (two-, three- and four-field farming)
• and much more: more information on the EU Organic Label