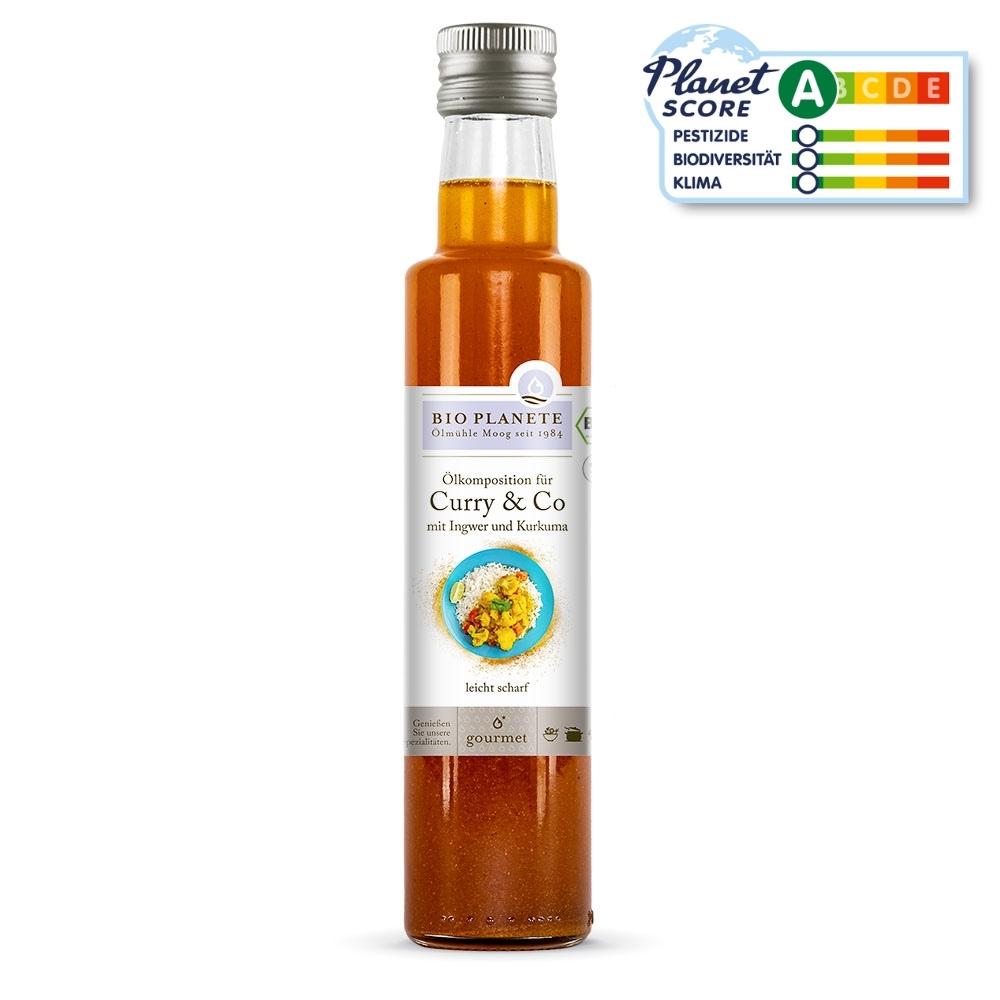 Oil Mixture for Curry & Co
· Specialties ·
250 ml
Indian cuisine inspired us to create the BIO PLANÈTE Oil Mixture for the Curry & Co. In the vegetable oil blend, the mild spiciness of ginger and chilli is in good harmony with the aromatic notes of cinnamon, cumin, and turmeric. Mustard oil, a traditional Indian cooking oil, completes the exotic recipe.
The BIO PLANÈTE Oil Mixture for Curry & Co is now together with Oil Mixture for Pizza & Pasta and Oil Mixture for Wok dishes the third oil of our popular series "Taste the World" that we developed particularly for fans of fast and vegan cuisine. With tasty oils, we want to arouse the desire for cooking, while at the same time provide inspiration from around the world for preparing healthy dishes – and offer an occasion to spontaneously bring together family, friends and acquaintances for a tasty meal.
This oil is one of the first food products in Germany and France which has been rated with the Planet Score. For this eco-labelling, additional indicators are used alongside the life cycle assessment to better capture the environmental impact of food production. Read more about the Planet Score.
Recipe ideas and use of the Oil Mixture for Curry & Co
The Oil Mixture for Curry & Co. is ideal for frying but also as a topping, giving dishes an instant curry note typical for Indian cuisine. Try the Oil Mixture for Curry & Co in couscous, hummus or mango lassi.
With our oil series "Taste the World" we take you on a culinary trip around the world. Also discover our BIO PLANÈTE Oil Mixture for Wok dishes and Oil Mixture for Pizza & Pasta!
Ingredients
High oleic Sunflower Oil* Refined*, Mustard Oil , Ground turmeric (1.9%), ground ginger (0.4%), cumin extract, fenugreek extract, cinnamon bark extract, chilli extract
Feeding Instructions
Suitable for vegetarians and vegans.
Allergy Notes
Produced in a factory where peanuts, sesame seeds and nuts are handled.
Storage Information
Store at room temperature and out of direct sunlight.
Heatability
Suitable for baking.
* Product of organic farming
energy
3387 kJ (824 kcal)
of which mono-unsaturated
76 g
of which polyunsaturated
6,3 g
vitamin E
51 mg
(425 % **)
Average nutritional analysis for 100 ml
** % of daily reference intake (adults)
Where does the vitamin E come from? Was it added to the oils artificially?

Vitamin E occurs naturally in cold-pressed cooking oils because the plants make this vitamin and, due to its chemical properties, it passes to the cooking oil during cold pressing. Incidentally, the following are especially high in vitamin E: natural Sunflower Oil, natural Safflower Oil and natural or roasted Almond Oil.

What conditions and standards are behind the organic seal on our oils?

An organic seal is a quality and test seal with which products from organic farming are marked. In 2010, a binding new organic seal was introduced throughout the EU, also known as the EU organic logo, which identifies food from organic farming (a star-shaped leaf on a green background).

This seal replaced the German state organic seal (green hexagon with "BIO" lettering), which had existed since 2001, with the same standards in terms of content. Due to the high degree of popularity of its predecessor, both seals are still often used today.

The use of this certification is strictly regulated by the publisher and is subject to ecological requirements. Compliance with the criteria by producers is ensured by a documentation obligation as well as regular sampling and examination of product samples. Compliance with the regulations is monitored in Europe by the responsible Eco-Control bodies.

Foods labelled with the organic seal must, among other things:
• Not be produced by or with/from genetically modified organisms
• Not to be produced with the use of synthetic pesticides
• Contain no more than 5% conventionally produced components (in exceptional cases, if ingredients are not available in ecological quality, in accordance with Annex VO)
• not contain sweeteners and stabilisers as well as synthetic colourants, preservatives and flavour enhancers
• not result from monotonous crop rotations (two-, three- and four-field farming)
• and much more: more information on the EU Organic Label

Can I use the oil even after the expiration date?

We can no longer guarantee the oil's perfect quality after its best before date.

In the interest of sustainability, however, we would like to point out the following: vegetable oils do not belong to the group of very sensitive foodstuffs and can usually still be consumed after the best-before date. This is especially true if the bottle is still sealed and it has been stored away from heat sources. Therefore, we recommend using your senses to test the oil before disposing of it. Oil that has been stored for too long can be easily recognized by smell and taste. If it tastes rancid or unusual (off), it should not be consumed.

How do I remove the labels from the jars and bottles?

Since we use oil-soluble glue for the labels, the best way to remove the label from the coconut jars is with oil. Simply coat the label with oil, let it absorb overnight and peel off easily in the morning. However, if the label is already off and only the glue is on it, this method doesn't work as well. In this context, we have been told of positive experiences with orange oil cleaner, such as from AlmaWin or Sodasan. Another option is a hair dryer - because heat also loosens the label well.
Get more suggestions at Upcycling & Creative.

What is the difference between curry and masala?

Masala and curry are strongly associated with Indian cuisine. For those unfamiliar with Indian culture, both terms might be confusing. Traditionally, curry dishes are cooked vegetables, meat or seafood with spices and salt in a creamy sauce. Usually, they have a mild flavour. Masalas are a combination of spices, nuts, grains and seeds used (among other things) to spice up a curry dish.

In Europe, the term curry also refers to an Indian spice mixture – curry powder. It is believed that British colonists brought Indian curry recipes when they returned home. Since the traditional preparation of the spice mixture was too time-consuming, they created their own mixture in the style of Indian spices used in curry dishes and named it curry after the dish, but its flavour was adapted to European taste, and it is not as spicy and aromatic as a masala. In India, it is not customary to use curry powder. Traditionally, masalas are used to spice curry dishes.