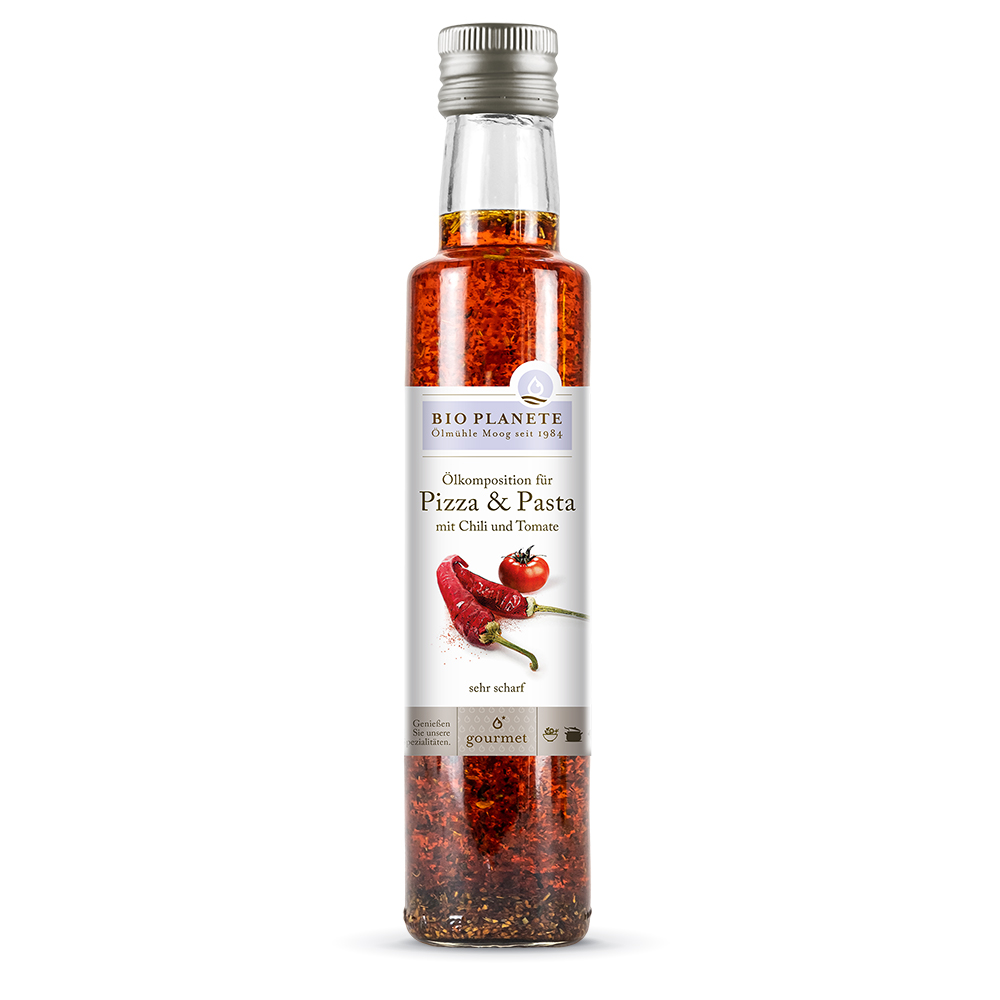 Oil Mixture for Pizza & Pasta
· Specialties ·
250 ml
Would you like a little Italian break? Then we recommend our new BIO PLANÈTE Oil Mixture for Pizza & Pasta.
For this vegan vegetable oil blend, we have refined virgin olive oil with sunflower, chili and garlic oil. What is unique about the oil mixture is the herb-tomato mixture, which makes the oil a special eye-catcher on the table. Our new oil is also ideal for those who like to try out new recipes without having to get hold of a variety of herbs and spices beforehand.
Recipe ideas and use of the Oil Mixture for Pizza & Pasta
The pleasantly sharp, aromatic taste is the ideal addition to Italian noodle and pasta dishes. It is also wonderfully suitable as a marinade for antipasti, oven vegetables and vegetable chips or for Mediterranean spreads.
But be careful: this special oil mixture is very hot with a Scoville value of around 1,500 and should be dosed carefully.
With our oil series "From all over the world" we take you on a culinary trip around the world. Also discover our BIO PLANÈTE Oil Mixture for Wok dishes and Oil Mixture for Curry & Co.
Ingredients
High oleic Sunflower Oil* Refined, Extra Virgin Olive Oil*, herbs*, tomatoes* (0.6%), chilli extract* (0.3%), garlic extract*.
Feeding Instructions
Suitable for vegetarians and vegans.
Storage Information
Store at room temperature and out of direct sunlight.
Heatability
Suitable for baking.
* Product of organic farming
energy
3367 kJ (819 kcal)
of which mono-unsaturated
74 g
of which polyunsaturated
7,7 g
vitamin E
35 mg
(292 % **)
Average nutritional analysis for 100 ml
** % of daily reference intake (adults)
Dose carefully! Shake well before use.
Where does the vitamin E come from? Was it added to the oils artificially?

Vitamin E occurs naturally in cold-pressed cooking oils because the plants make this vitamin and, due to its chemical properties, it passes to the cooking oil during cold pressing. Incidentally, the following are especially high in vitamin E: natural Sunflower Oil, natural Safflower Oil and natural or roasted Almond Oil.

What conditions and standards are behind the organic seal on our oils?

An organic seal is a quality and test seal with which products from organic farming are marked. In 2010, a binding new organic seal was introduced throughout the EU, also known as the EU organic logo, which identifies food from organic farming (a star-shaped leaf on a green background).

This seal replaced the German state organic seal (green hexagon with "BIO" lettering), which had existed since 2001, with the same standards in terms of content. Due to the high degree of popularity of its predecessor, both seals are still often used today.

The use of this certification is strictly regulated by the publisher and is subject to ecological requirements. Compliance with the criteria by producers is ensured by a documentation obligation as well as regular sampling and examination of product samples. Compliance with the regulations is monitored in Europe by the responsible Eco-Control bodies.

Foods labelled with the organic seal must, among other things:
• Not be produced by or with/from genetically modified organisms
• Not to be produced with the use of synthetic pesticides
• Contain no more than 5% conventionally produced components (in exceptional cases, if ingredients are not available in ecological quality, in accordance with Annex VO)
• not contain sweeteners and stabilisers as well as synthetic colourants, preservatives and flavour enhancers
• not result from monotonous crop rotations (two-, three- and four-field farming)
• and much more: more information on the EU Organic Label