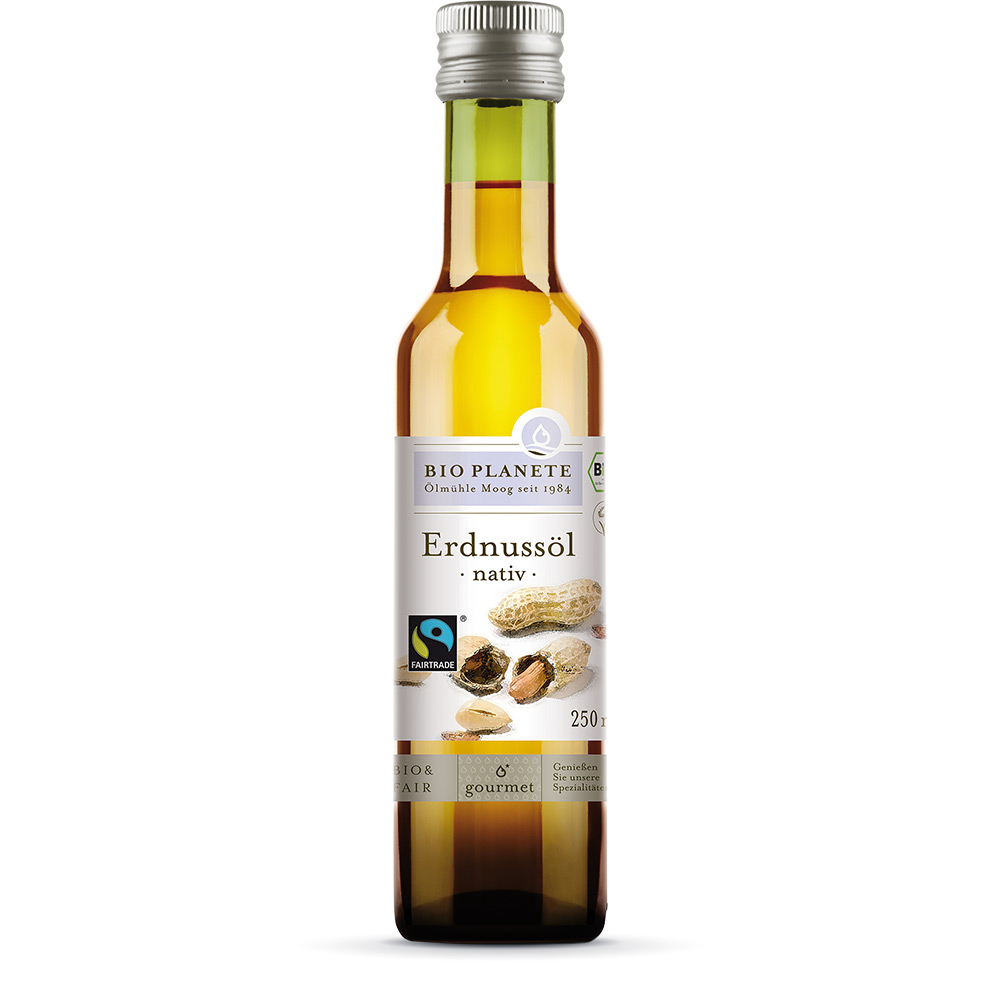 Peanut Oil
· Virgin ·
250 ml
We only use peanuts from selected farmers in China for the fair trade Peanut Oil Virgin. Thanks to BIO PLANÈTE's Fairtrade project, we can ensure that local small farmers receive modern equipment, access to agricultural knowledge and fair prices for their organically grown peanuts. This form of partnership enables local investment and sustainable structural and economic improvements.
The oil is pressed from 100% Fairtrade certified peanuts. Certified by the Swiss Max Havelaar Foundation, we can thus offer our customers a Fairtrade Peanut Oil that meets the highest ecological and social standards. More information at www.info.fairtrade.net
Recipe ideas and use of Virgin Peanut Oil
Virgin Peanut Oil is excellent for frying and baking. Compared to other frying oils, it is rich in unsaturated fatty acids and adds a wonderful peanut flavour to a wide variety of dishes.
The oil goes wonderfully with Asian dishes: the nutty, exotic aroma of peanuts is the ideal accompaniment to meat, fish and vegetables. But also fried potatoes and pastries such as cookies as well as muffins get a great flavour from the BIO PLANÈTE Virgin Peanut Oil.
You are also welcome to try our BIO PLANÈTE Peanut Oil Toasted and Oil Mixture for Wok dishes.
Feeding Instructions
Suitable for vegetarians, vegans and a raw food diet.
Allergy Notes
Produced in a factory where sesame seeds and nuts are handled.
Storage Information
Store at room temperature and out of direct sunlight.
Heatability
Suitable for frying.
Product of organic farming
energy
3404 kJ (828 kcal)
of which mono-unsaturated
38 g
of which polyunsaturated
37 g
vitamin E
22 mg
(183 % **)
Average nutritional analysis for 100 ml
** % of daily reference intake (adults)
What does cold pressing mean?

"Cold pressing" assumes that no external heat is added. When we cold-press oils, the temperature is monitored and we ensure that no high temperatures are reached. We can therefore guarantee that the quality of the oil is not impaired.

What does "virgin" mean in the context of oils?

A virgin oil is a cooking oil which is obtained exclusively using mechanical processes without preheating the raw materials. It is not subjected to chemical or thermal treatment or to any other refinement process and thus preserves its authentic, natural taste and the essential components of the raw material. This also makes it suitable for eating raw.

What conditions and standards are behind the organic seal on our oils?

An organic seal is a quality and test seal with which products from organic farming are marked. In 2010, a binding new organic seal was introduced throughout the EU, also known as the EU organic logo, which identifies food from organic farming (a star-shaped leaf on a green background).

This seal replaced the German state organic seal (green hexagon with "BIO" lettering), which had existed since 2001, with the same standards in terms of content. Due to the high degree of popularity of its predecessor, both seals are still often used today.

The use of this certification is strictly regulated by the publisher and is subject to ecological requirements. Compliance with the criteria by producers is ensured by a documentation obligation as well as regular sampling and examination of product samples. Compliance with the regulations is monitored in Europe by the responsible Eco-Control bodies.

Foods labelled with the organic seal must, among other things:
• Not be produced by or with/from genetically modified organisms
• Not to be produced with the use of synthetic pesticides
• Contain no more than 5% conventionally produced components (in exceptional cases, if ingredients are not available in ecological quality, in accordance with Annex VO)
• not contain sweeteners and stabilisers as well as synthetic colourants, preservatives and flavour enhancers
• not result from monotonous crop rotations (two-, three- and four-field farming)
• and much more: more information on the EU Organic Label

Can I use the oil even after the expiration date?

We can no longer guarantee the oil's perfect quality after its best before date.

In the interest of sustainability, however, we would like to point out the following: vegetable oils do not belong to the group of very sensitive foodstuffs and can usually still be consumed after the best-before date. This is especially true if the bottle is still sealed and it has been stored away from heat sources. Therefore, we recommend using your senses to test the oil before disposing of it. Oil that has been stored for too long can be easily recognized by smell and taste. If it tastes rancid or unusual (off), it should not be consumed.

How do I remove the labels from the jars and bottles?

Since we use oil-soluble glue for the labels, the best way to remove the label from the coconut jars is with oil. Simply coat the label with oil, let it absorb overnight and peel off easily in the morning. However, if the label is already off and only the glue is on it, this method doesn't work as well. In this context, we have been told of positive experiences with orange oil cleaner, such as from AlmaWin or Sodasan. Another option is a hair dryer - because heat also loosens the label well.
Get more suggestions at Upcycling & Creative.

What does the Fairtrade seal on food mean?

The Fairtrade seal is probably the best-known certification for goods that originate from fair trade and that have been produced in compliance with certain social, ecological and economic criteria.

The seal enables small farmers' cooperatives to achieve stable prices and long-term trading partnerships. Both farmers and employees on plantations receive an additional Fairtrade premium for community projects. The standards also contain criteria on democratic organisational structures, environmental protection and safe working conditions. The controls are carried out by the certification company FLOCERT.

More information can be found on Fairtrade website.