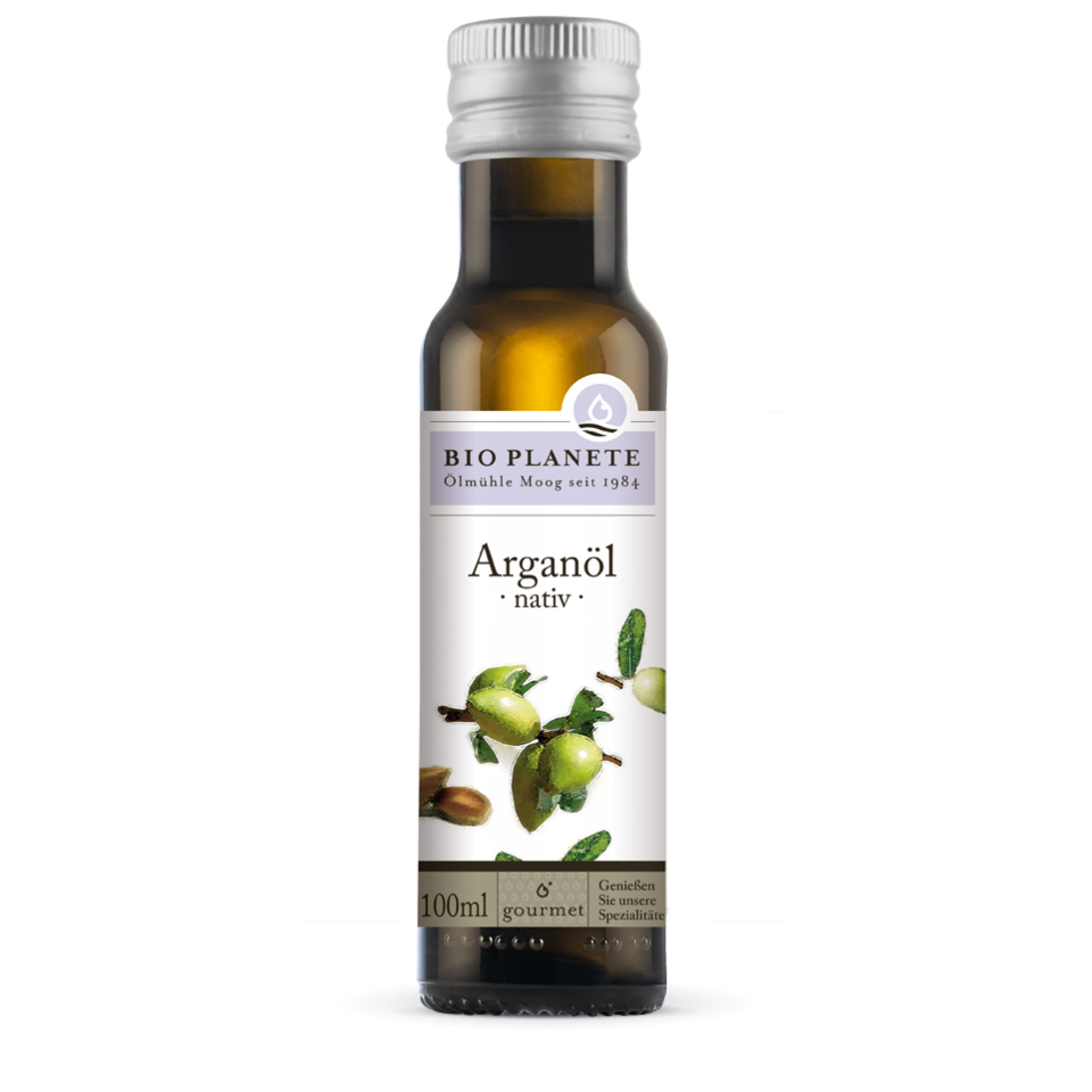 Argan Oil
· Virgin ·
100 ml
The argan tree with its wide spreading, shady crown is one of the oldest trees in the world. Today it grows only in southwestern Morocco and is protected by UNESCO. Argan Oil is known from natural cosmetics and is also traditionally used as food.
Together with our Moroccan trading partner, we support the care and reforestation of argan trees. They not only curb further desert encroachment, but also guarantee local women a secure income. The so-called Berber women open the seeds of the argan fruits in traditional manual labour. The two to three oily almonds contained are then gently cold pressed once. About 35 kilogrammes of fruit are needed for one litre of Argan Oil, which is why it is one of the most expensive oils in the world.
Recipe ideas and use of Virgin Argan Oil
In Europe, Argan Oil is considered a gourmet oil for sophisticated gastronomy, on a par with caviar and truffles. The mildly nutty oil gives salads, vegetable dishes and desserts an authentic, oriental touch.
You can also try the Toasted Argan Oil and Virgin Almond Oil.
Feeding Instructions
Suitable for vegetarians, vegans and a raw food diet. Vegetable oil only for seasoning.
Allergy Notes
Produced in a factory where peanuts, sesame seeds and nuts are handled.
Storage Information
Store at room temperature and out of direct sunlight.
Product of organic farming
energy
3404 kJ (828 kcal)
of which mono-unsaturated
45 g
of which polyunsaturated
30 g
vitamin E
11 mg
(92 % **)
Average nutritional analysis for 100 ml
** % of daily reference intake (adults)
What conditions and standards are behind the organic seal on our oils?

An organic seal is a quality and test seal with which products from organic farming are marked. In 2010, a binding new organic seal was introduced throughout the EU, also known as the EU organic logo, which identifies food from organic farming (a star-shaped leaf on a green background).

This seal replaced the German state organic seal (green hexagon with "BIO" lettering), which had existed since 2001, with the same standards in terms of content. Due to the high degree of popularity of its predecessor, both seals are still often used today.

The use of this certification is strictly regulated by the publisher and is subject to ecological requirements. Compliance with the criteria by producers is ensured by a documentation obligation as well as regular sampling and examination of product samples. Compliance with the regulations is monitored in Europe by the responsible Eco-Control bodies.

Foods labelled with the organic seal must, among other things:
• Not be produced by or with/from genetically modified organisms
• Not to be produced with the use of synthetic pesticides
• Contain no more than 5% conventionally produced components (in exceptional cases, if ingredients are not available in ecological quality, in accordance with Annex VO)
• not contain sweeteners and stabilisers as well as synthetic colourants, preservatives and flavour enhancers
• not result from monotonous crop rotations (two-, three- and four-field farming)
• and much more: more information on the EU Organic Label