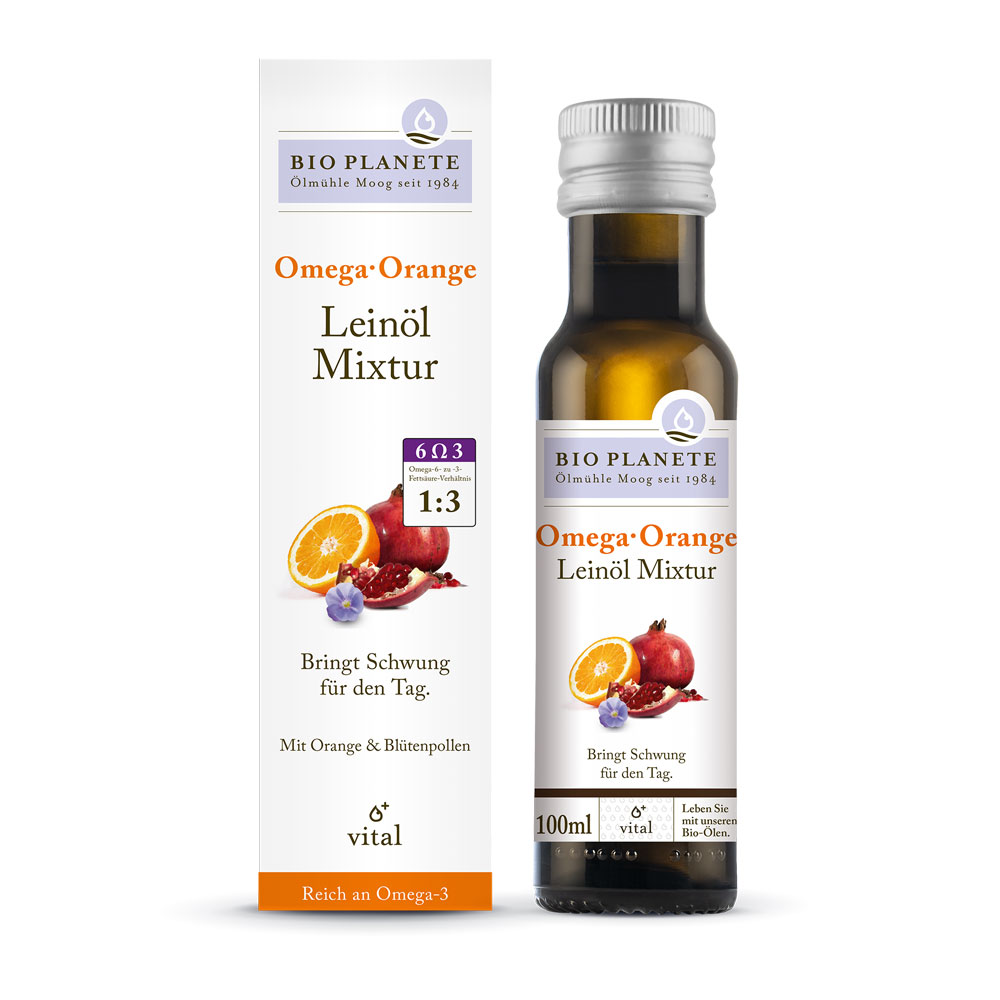 Omega Orange
· Flaxseed Oil Mixture ·
100 ml
In the mornings, we are happy if we can start the new day full of energy. Our Flaxseed Oil mixture Omega Orange is perfect for this. This oil mixture with its fruity and fresh orange aroma can upgrade your breakfast and bring a pep in your step.
The flaxseed and pomegranate seed oils in this composition provide a large proportion of polyunsaturated fatty acids. As a result, the Omega Orange primarily supplies your body with Omega-3 fatty acid, alpha-linolenic acid (ALA) that is essential and cannot be produced in our bodies. When 2g (= 4.3ml/approx. 1 teaspoon of Omega Orange) are taken daily, alpha-linolenic acid contributes to the preservation of normal blood cholesterol levels. The basis of the mixture is our 3D filtered Flaxseed Oil that was debittered using the procedure we have developed. Bee pollen give the oil a pleasantly light and fruity sweetness.
Ideas for recipes and use of Omega Orange
Omega Orange can refine muesli, cottage cheese dishes, yoghurt and smoothies with its fruity and fresh aroma. The orange aroma is also very delicious in salads.
Naturally unbitter? With 3D filtration method we developed ourselves.
It is important to maintain a varied and balanced diet and a healthy lifestyle.
Ingredients
Flaxseed Oil* (80 %), pomegranate-seed oil* (12 %), flower pollen* (5%), essential orange oil* (3 %)
Feeding Instructions
Suitable for vegetarians
Storage Information
Refrigerate after opening and consume within 3 months.
* Product of organic farming
** This product contains a finely composed mixture of different ingredients. As a rule, the main ingredient originates from the country mentioned here. Should the proportion of ingredients be equal, more than one country will be declared. Should any questions regarding product origin arise, please contact us: contact@bioplanete.com or +33 (0) 4 68 76 70 6
energy
3131 kJ (761 kcal)
of which mono-unsaturated
17 g
of which polyunsaturated
57 g
vitamin E
20 mg
(167 % **)
Average nutritional analysis for 100 ml
** % of daily reference intake (adults)
On average in 100 ml: Alpha-linolenic acid (Omega 3): 43 g /1,51 oz
Many people do not like linseed oil because of its bitter taste. That's why we have removed the bitterness in a natural way from our cold-pressed BIO PLANETE Flaxseed Oil using a unique process developed by us, 3D filtration. The small protein components in the Flaxseed Oil are responsible for its bitterness, and we use their three-dimensional structure (3D) to filter them out. This gives our BIO PLANÈTE Flaxseed Oil a milder (no longer bitter), slightly nutty taste.

Does 3D filtration influence the quality of the oil?

No! The cold pressing and 3D filtration of our natural Flaxseed Oil preserve its organic quality and its nutritional-physiological benefits. They only make it lose its bitterness in a natural way.

Flaxseed Oil solidifies in the fridge. Is this natural or does it lose its quality?

In decreasing temperatures, Flaxseed Oil becomes more and more viscous until it starts to solidify. This is a natural property of the oil and does not mean a quality defect. Incidentally, Flaxseed Oil can also be stored in the freezer to extend its storage life. This makes sense particularly if you are planning a longer trip. This does not damage the oil and it will quickly regain its usual properties when returned to room temperature.

How should I store BIO PLANÈTE Flaxseed Oil?

Flaxseed Oil is rich in polyunsaturated, valuable omega 3 fatty acids. These acids can be very sensitive to environmental influences such as heat, UV light and oxygen. That's why our Flaxseed Oil is filled into light-protected bottles in a protective atmosphere, where oxygen is excluded. As a result, the oil only needs to be stored in the fridge after opening and coming into contact with the oxygen in the air.

What is the difference between Camelina Oil and Flaxseed Oil?

Camelina sativa is a plant in the cruciferous family where as flax is a plant genus in flax family. In other words, the two plants belong to different families of plants and are not related. The two oils also taste different: while Flaxseed Oil has a slightly nutty taste, Camelina Oil is reminiscent of fresh vegetables. But both oils have a high polyunsaturated fatty acid content.

Why are unsaturated acids healthier than saturated fatty acids?

This is true primarily for all polyunsaturated acids, meaning omega 3 and omega 6 fatty acids. These occur more rarely in foods than mono-unsaturated and saturated fatty acids. In addition, the human body cannot make these fatty acids itself, so it depends on a sufficient intake of omega 3 and omega 6 acids from food. They have several important functions in the body, form part of cell membranes and contribute to preserving normal cholesterol levels, blood pressure and a normal cardiac function.

What is the difference between omega 3 and omega 6 acids?

The difference lies in the chemical structure of the molecules. Both classes of fatty acids are essential for humans, meaning our bodies cannot product them and depend on a sufficient intake from food. Nutritional sources of omega 3 fatty acids are exclusively marine algae, fish and plant oils and seeds. Unfortunately, we tend to take in far too little of these important fatty acids. Our daily nutrition gives us a ratio of omega 6 fatty acids to omega 3 fatty acids of approx. 15:1. The German Nutritional Association recommends a ratio of 5:1.

For example, the BIO PLANÈTE Salad Oil provides this optimal ratio of omega 6 to omega 3 fatty acids. If you want to balance out your omega-ratio with oils rich in omega 3, you can e.g. revert to Flaxseed Oil or our Omega Colour Oils.

Where does the polyunsaturated fatty acid omega 3 occur?

Omega 3 fatty acids occur in plant seeds and plant oils as well as is saltwater fish and marine algae. Therefore, the German Nutritional Association recommends eating fish twice a week in order to supply the body with sufficient omega 3 fatty acids. Flaxseed Oil, Hempseed Oil, Camelina Oil and the BIO PLANÈTE Omega Colour Flaxseed mixtures have an especially high proportion of omega 3.

Omega 6 fatty acids are much more common: these fatty acids are also found in animal fats. That's why our daily nutrition contains more omega 6 fatty acids than omega 3 fatty acids, with the ratio being approx. 15:1. The German Nutritional Association recommends a ratio of 5:1. The BIO PLANÈTE Salad Oil provides this optimal ratio of omega 6 to omega 3 fatty acids.

How can vegans meet their requirement of omega 3?

If you follow a vegan diet, dislike the taste of fish or cannot eat fish regularly (2x per week) for other reasons, you should make sure to keep a high-quality plant oil rich in omega 3 fatty acids in your fridge and use this to cover your requirement of these essential fatty acids. Flaxseed Oil, Hempseed Oil, Camelina Oil and the BIO PLANÈTE Omega Colour Flaxseed Oil Mixtures are particularly suitable for this. The latter have not just a high omega 3 content but also contain select ingredients which add to the taste.

Why should you not heat oils with polyunsaturated fatty acids?

The more polyunsaturated fatty acids are contained in the oil, the more susceptible it is to environmental influences such as heat, UV light and oxygen. If such oils are heated up too much or for too long, this can result in a damaging decomposition and in conversion products such as trans-fatty acids. As a result, e.g. our Flaxseed Oil and other Vital Oils are filled into light-protected bottles in a protective atmosphere (free from oxygen). These oils should be stored in the fridge after opening.

What is alpha-linolenic acid and where does it occur?

Alpha-linolenic acid is a triple unsaturated essential fatty acid and – like DHA – belongs to the group of omega 3 fatty acids. If 2g are taken daily, alpha-linolenic acid contributes to the preservation of normal blood cholesterol levels.

Flaxseed Oil, Camelina Oil, Rapeseed Oil, Hempseed Oil and Walnut Oil have an especially high alpha-linolenic acid content.

What conditions and standards are behind the organic seal on our oils?

An organic seal is a quality and test seal with which products from organic farming are marked. In 2010, a binding new organic seal was introduced throughout the EU, also known as the EU organic logo, which identifies food from organic farming (a star-shaped leaf on a green background).

This seal replaced the German state organic seal (green hexagon with "BIO" lettering), which had existed since 2001, with the same standards in terms of content. Due to the high degree of popularity of its predecessor, both seals are still often used today.

The use of this certification is strictly regulated by the publisher and is subject to ecological requirements. Compliance with the criteria by producers is ensured by a documentation obligation as well as regular sampling and examination of product samples. Compliance with the regulations is monitored in Europe by the responsible Eco-Control bodies.

Foods labelled with the organic seal must, among other things:
• Not be produced by or with/from genetically modified organisms
• Not to be produced with the use of synthetic pesticides
• Contain no more than 5% conventionally produced components (in exceptional cases, if ingredients are not available in ecological quality, in accordance with Annex VO)
• not contain sweeteners and stabilisers as well as synthetic colourants, preservatives and flavour enhancers
• not result from monotonous crop rotations (two-, three- and four-field farming)
• and much more: more information on the EU Organic Label