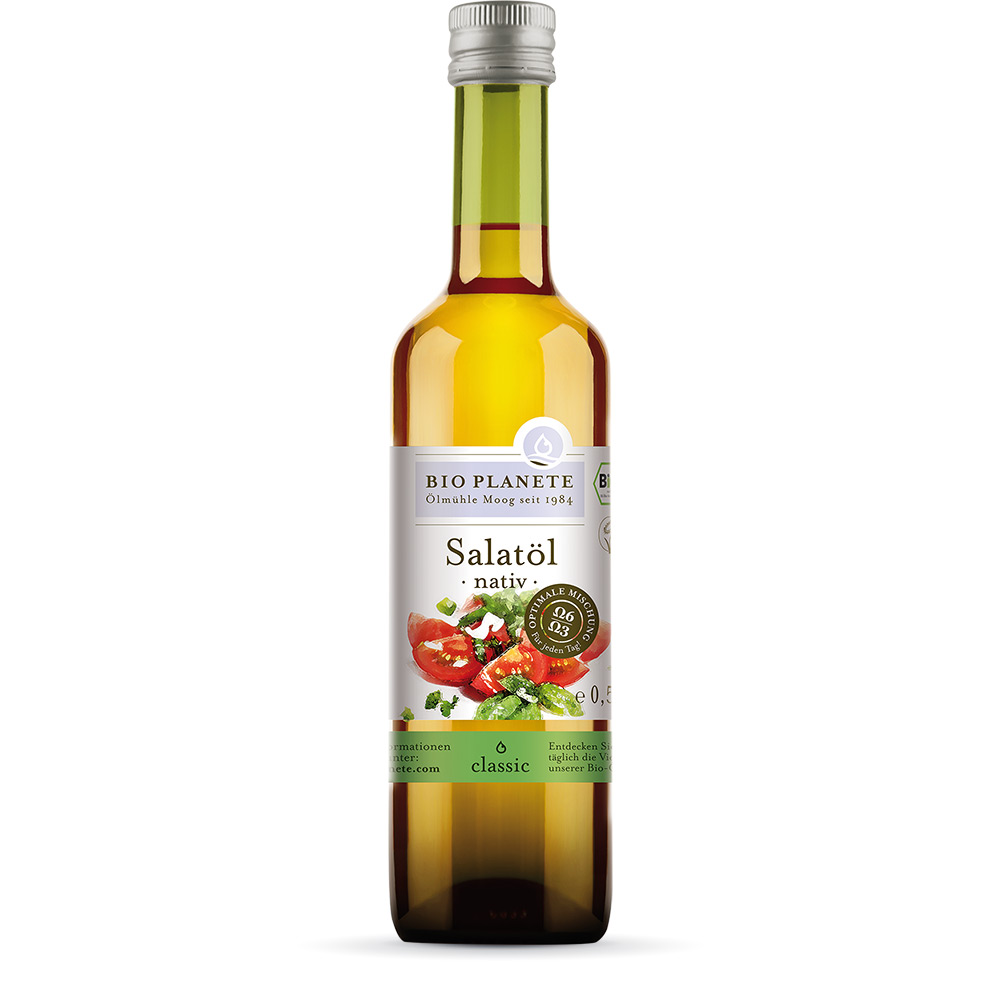 Salad Oil
· Virgin ·
500 ml
Our composition of three important oil classics is your everyday companion of a valuable cuisine. We have composed the balanced blend to cover the daily requirements for both essential fatty acids and vitamin E. The fatty acids omega 6 and omega 3 ensure an optimum provision of the body, since they are contained in the recommended 5 to 1 ratio. Based on cold pressed Rapeseed- and Sunflower Oil, the composition is rounded by the aroma of Extra Virgin Olive Oil Fruity.
Recipe ideas and use of Salad Oil
This blend gives a fresh flavor to crisp lettuce as well as to cold starters. Refine it even more with a splash of lemon or some mild vinegar, and our Salad Oil will make the ideal basis of a deliciously rich vinaigrette.
Also discover our Rapeseed Oil and the Sunflower Oil.
Ingredients
Rapeseed Oil Virgin* (64 %), Sunflower Oil Virign* (18 %), Olive Oil Extra Virgin* (18 %)
Origin **
France, Germany, Hungary, Romania
Feeding Instructions
Suitable for vegetarians, vegans and a raw food diet.
Allergy Notes
Produced in a factory where peanuts, sesame seeds and nuts are handled.
Storage Information
Store at room temperature and out of direct sunlight.
* Product of organic farming
** This product contains a finely composed mixture of different ingredients. As a rule, the main ingredient originates from the country mentioned here. Should the proportion of ingredients be equal, more than one country will be declared. Should any questions regarding product origin arise, please contact us: contact@bioplanete.com or +33 (0) 4 68 76 70 6
energy
3404 kJ (828 kcal)
of which mono-unsaturated
55 g
of which polyunsaturated
29 g
vitamin E
30 mg
(283 % **)
Average nutritional values per 100 ml / 3.38 fl oz
** Percent Daily Values are based on a 2,000 calorie diet.
On average in 100 ml: Alpha-linolenic acid (Omega 3): 5,4 g /0,17 oz, polyunsaturated fatty acid (linoleic acid - Omega 6): 24 g /0,88 oz
Why are unsaturated acids healthier than saturated fatty acids?

This is true primarily for all polyunsaturated acids, meaning omega 3 and omega 6 fatty acids. These occur more rarely in foods than mono-unsaturated and saturated fatty acids. In addition, the human body cannot make these fatty acids itself, so it depends on a sufficient intake of omega 3 and omega 6 acids from food. They have several important functions in the body, form part of cell membranes and contribute to preserving normal cholesterol levels, blood pressure and a normal cardiac function.

What is the difference between omega 3 and omega 6 acids?

The difference lies in the chemical structure of the molecules. Both classes of fatty acids are essential for humans, meaning our bodies cannot product them and depend on a sufficient intake from food. Nutritional sources of omega 3 fatty acids are exclusively marine algae, fish and plant oils and seeds. Unfortunately, we tend to take in far too little of these important fatty acids. Our daily nutrition gives us a ratio of omega 6 fatty acids to omega 3 fatty acids of approx. 15:1. The German Nutritional Association recommends a ratio of 5:1.

For example, the BIO PLANÈTE Salad Oil provides this optimal ratio of omega 6 to omega 3 fatty acids. If you want to balance out your omega-ratio with oils rich in omega 3, you can e.g. revert to Flaxseed Oil or our Omega Colour Oils.

Where does the polyunsaturated fatty acid omega 3 occur?

Omega 3 fatty acids occur in plant seeds and plant oils as well as is saltwater fish and marine algae. Therefore, the German Nutritional Association recommends eating fish twice a week in order to supply the body with sufficient omega 3 fatty acids. Flaxseed Oil, Hempseed Oil, Camelina Oil and the BIO PLANÈTE Omega Colour Flaxseed mixtures have an especially high proportion of omega 3.

Omega 6 fatty acids are much more common: these fatty acids are also found in animal fats. That's why our daily nutrition contains more omega 6 fatty acids than omega 3 fatty acids, with the ratio being approx. 15:1. The German Nutritional Association recommends a ratio of 5:1. The BIO PLANÈTE Salad Oil provides this optimal ratio of omega 6 to omega 3 fatty acids.

How can vegans meet their requirement of omega 3?

If you follow a vegan diet, dislike the taste of fish or cannot eat fish regularly (2x per week) for other reasons, you should make sure to keep a high-quality plant oil rich in omega 3 fatty acids in your fridge and use this to cover your requirement of these essential fatty acids. Flaxseed Oil, Hempseed Oil, Camelina Oil and the BIO PLANÈTE Omega Colour Flaxseed Oil Mixtures are particularly suitable for this. The latter have not just a high omega 3 content but also contain select ingredients which add to the taste.

Why should you not heat oils with polyunsaturated fatty acids?

The more polyunsaturated fatty acids are contained in the oil, the more susceptible it is to environmental influences such as heat, UV light and oxygen. If such oils are heated up too much or for too long, this can result in a damaging decomposition and in conversion products such as trans-fatty acids. As a result, e.g. our Flaxseed Oil and other Vital Oils are filled into light-protected bottles in a protective atmosphere (free from oxygen). These oils should be stored in the fridge after opening.

What is alpha-linolenic acid and where does it occur?

Alpha-linolenic acid is a triple unsaturated essential fatty acid and – like DHA – belongs to the group of omega 3 fatty acids. If 2g are taken daily, alpha-linolenic acid contributes to the preservation of normal blood cholesterol levels.

Flaxseed Oil, Camelina Oil, Rapeseed Oil, Hempseed Oil and Walnut Oil have an especially high alpha-linolenic acid content.

What does cold pressing mean?

"Cold pressing" assumes that no external heat is added. When we cold-press oils, the temperature is monitored and we ensure that no high temperatures are reached. We can therefore guarantee that the quality of the oil is not impaired.

What does "virgin" mean in the context of oils?

A virgin oil is a cooking oil which is obtained exclusively using mechanical processes without preheating the raw materials. It is not subjected to chemical or thermal treatment or to any other refinement process and thus preserves its authentic, natural taste and the essential components of the raw material. This also makes it suitable for eating raw.