Three BIO PLANÈTE oils awarded
« Best organic products 2021 »
1. December 2020
The "Best Organic Products 2021" ceremony held on Thursday, 12th November 2020, with 191 competing products. This year, 3 BIO PLANÈTE oils were awarded the best scores in the category of "edible oils" (out of the five winners): virgin Coconut Oil, Fairtrade Max Havelaar toasted Peanut Oil and extra virgin Olive Oil from France. A note of excellence for the virgin Coconut Oil which received the best score in the competition, all products combined. These three references symbolize the commitment of the brand: quality, responsibility and innovation. BIO PLANÈTE, a responsible brand engaged in well-being, has as ambition to offer high quality products known for their virtues and benefits. Offering an array of more than 70 vegetable oils, the brand lives up to today's consumer expectations by offering them alternatives so as to vary their daily diet, do them good while taking care of the planet.
BIO PLANÈTE Coconut Virgin Oil, THE reference
The brand's best-seller product received a score of 18.36/20.
It is the best score of the competition among the 191 products. Thanks to its delicious fresh coconut aroma, this oil perfumes dishes with a note that is both fine and exotic. It goes very well with heat and is therefore particularly suitable for frying and cooking. Coconut flesh contains saturated medium chain fatty acids, including lauric acid, which is particularly well absorbed by the body. Easy to cook, it is also good for flexitarians as well as vegetarians, vegans and fruitarians. Its long-term storage at room temperature is also a real plus! Resulting from pressing the pulp of the nut immediately after harvest, this coconut oil is neither bleached, nor hydrogenated or deodorized. A special cold vacuum process ensures optimal preservation of the quality and freshness of the oil. The BIO PLANÈTE guarantee band ensures the impeccable condition of the Coconut Oil. Its sweet aroma and its nutritional moisturizing benefits also make it an ally for lovers of homemade products.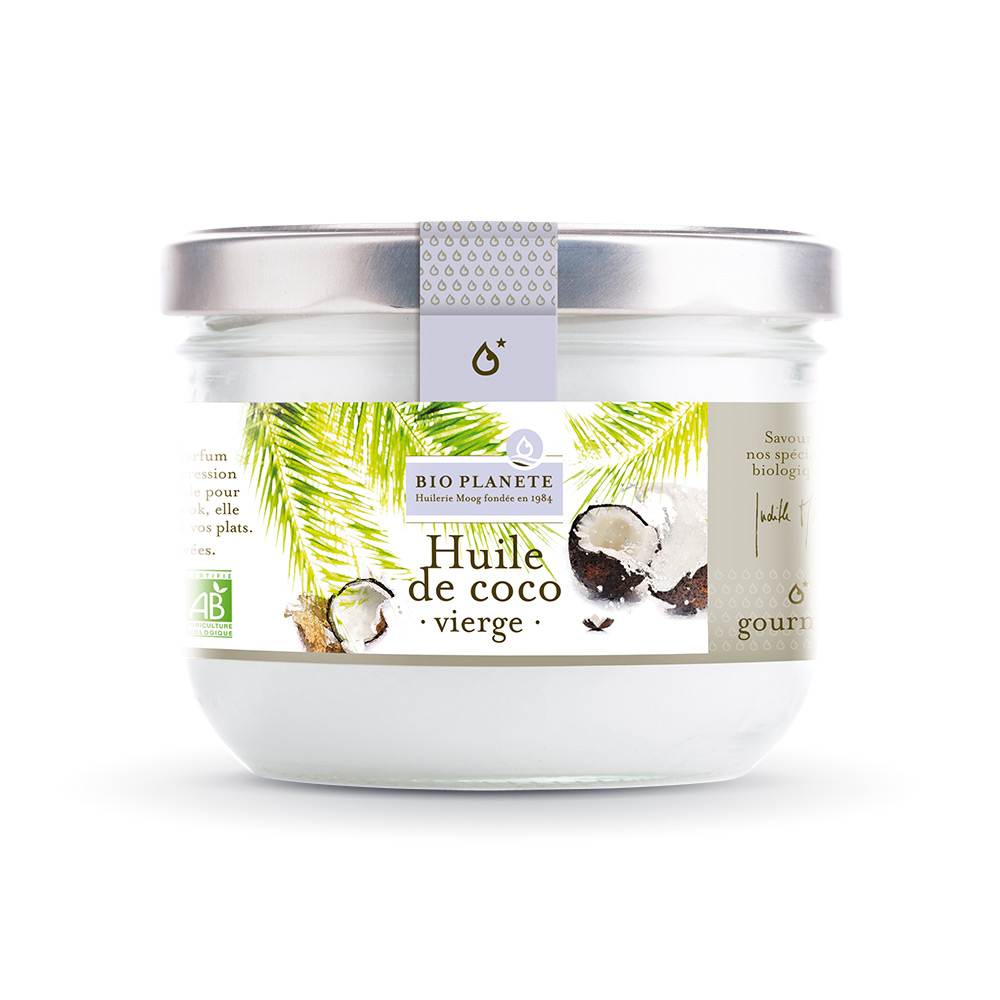 « Our virgin Coconut Oil is of a remarkable quality and represents a real alternative to the usual butter. Being the first oil mill to have introduced organic virgin Coconut Oil in the market, we are very proud to have this distinction which is a quality guarantee for clients of specialized circuits. », says Judith Moog, president of BIO PLANÈTE.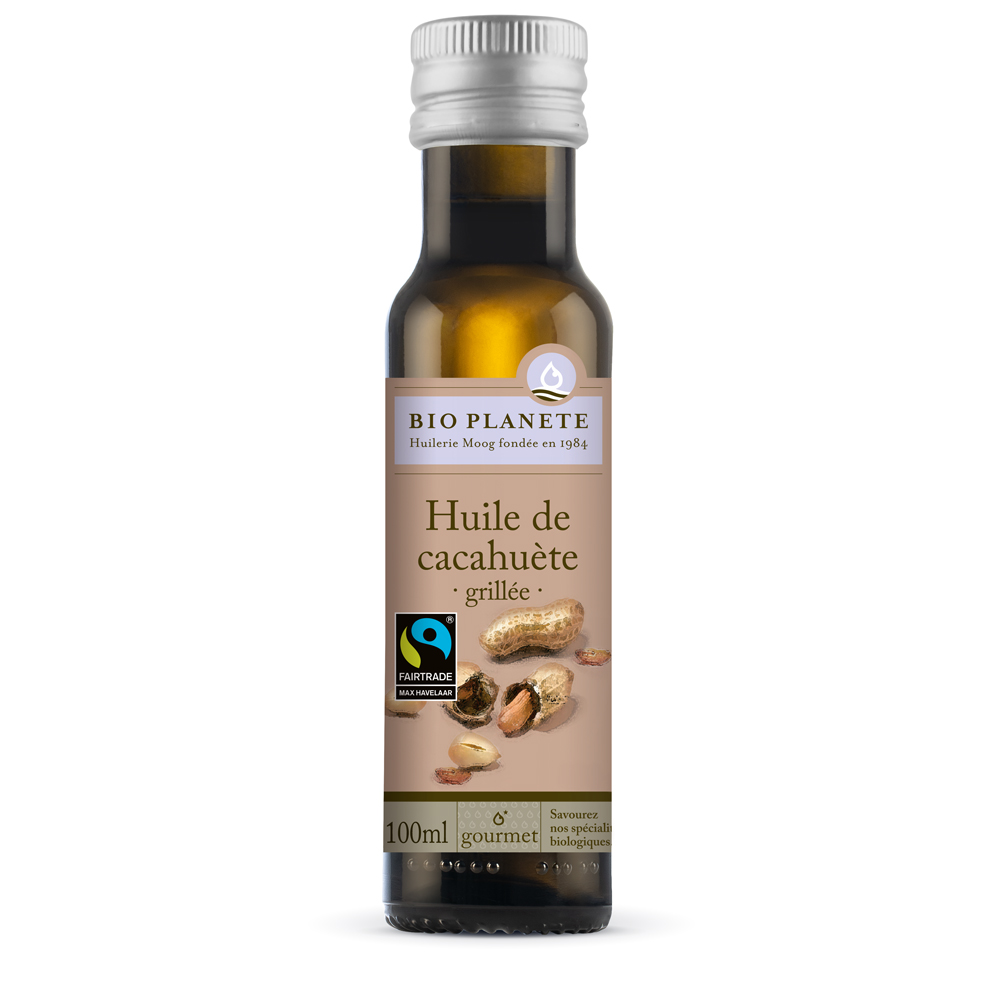 Fairtrade Max Havelaar BIO PLANÈTE toasted Peanut Oil, a unique taste
18.29/20 for grilled peanut oil labeled Fairtrade Max Havelaar.
Certified as FAIRTRADE MAX HAVELAAR, this oil comes from a sealed partnership with producers from eastern China guaranteeing them a bonus to improve their work tools, their economic activity and develop the education of their children. The peanuts are shelled, then roasted and cold-pressed in order to keep all their flavours and quality. This process gives the toasted Peanut Oil a powerful and appetizing aroma. Ideal to accompany main dishes and desserts, toasted Peanut Oil brings delicious exotic notes to dishes based on vegetables, meat or fish for a creative and appetizing cooking. Its 100ml format is designed to minimise waste, to take it everywhere and also allows one to vary their diet according to their desires!
« Our toasted Peanut Oil is a very new product in our range of roasted oils. It iss an exceptional product, both for its powerful taste and also for its fair footprint. We have always had the vocation of working in the long term with producers worldwide engaged in organic farming through an equal to equal partnership» precises Judith Moog, president of BIO PLANÈTE
BIO PLANÈTE extra virgin Olive Oil from France, the best of French terroir
Scored 18.20/20, this extra virgin Olive Oil is produced 100% in France.
As a partner of demanding biological oil producers, BIO PLANÈTE works with the same rigor to select the best in France. At the heart of a superb Mediterranean territory (between Aude and Gard) the producers of BIO PLANÈTE Olive Oil combine a wide range of aromas and colours. Lovers of Olive Oil will take delight in pairing this oil with a multitude of mediteranean dishes such as pistou or tapenede. Rich in omega 9, it enhances recipes and brings equilibrium to the daily menus.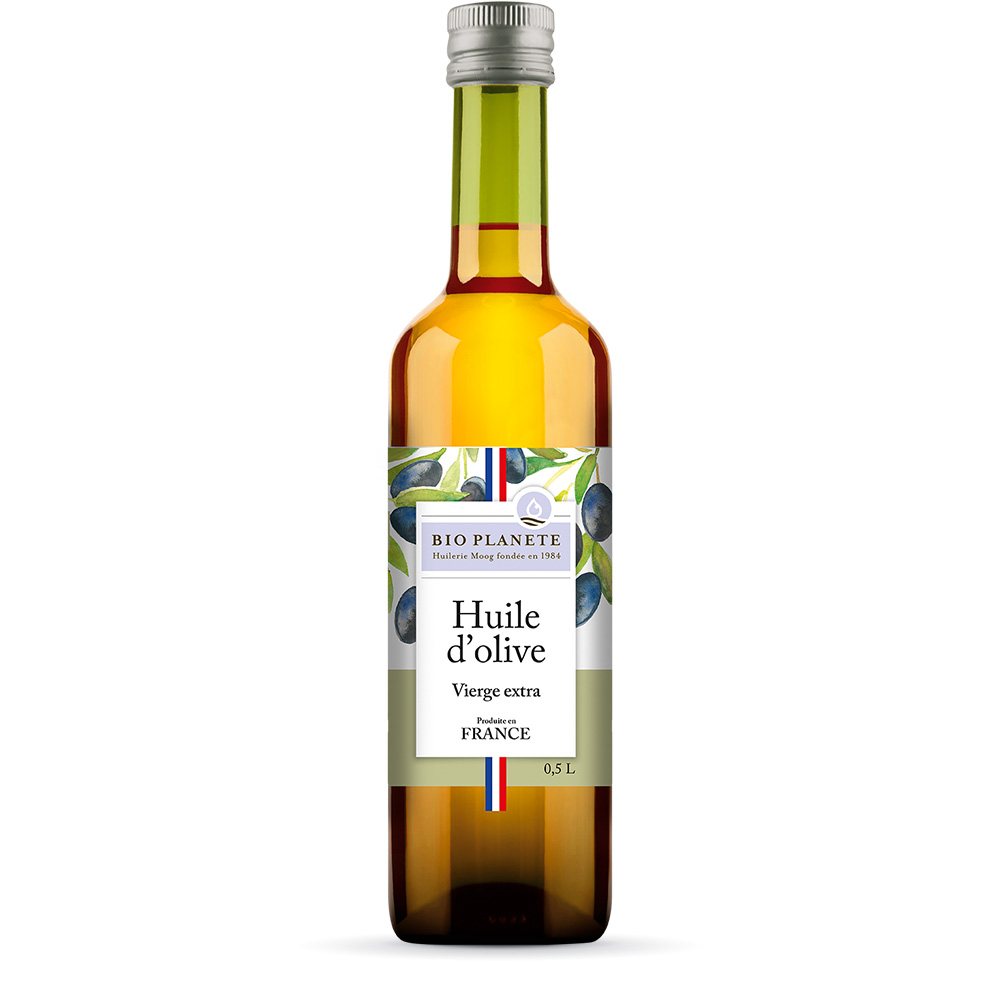 « Born and present in Occitania since more than 35 years, the BIO PLANÈTE brand is fully committed to the development of biological agriculture in France. The extra virgin olive oil from France is part of a range dedicated to the French terroir. We are delighted that consumers do support French producers by their act of buying.», adds Judith Moog, president of BIO PLANÈTE
Based on a consumer test, "Best Organic Products" brings visibility in the market and a true recognition of the products quality. Faithful of this competition, the BIO PLANÈTE brand is proud to have its products rewarded every year.

About BIO PLANÈTE :
BIO PLANÈTE, an organic oil mill of reference in Europe, has been dedicated for more than 30 years to the production of fine oils from first cold-pressing coming from quality raw materials: from oils of the "classic" range for a healthy everyday cooking, to products of the "gourmet" range, which give dishes all their savour thanks to a great diversity of aromas for a tasty and creative cooking, right up to "vitality" oils, which contribute to a world of healthy living.