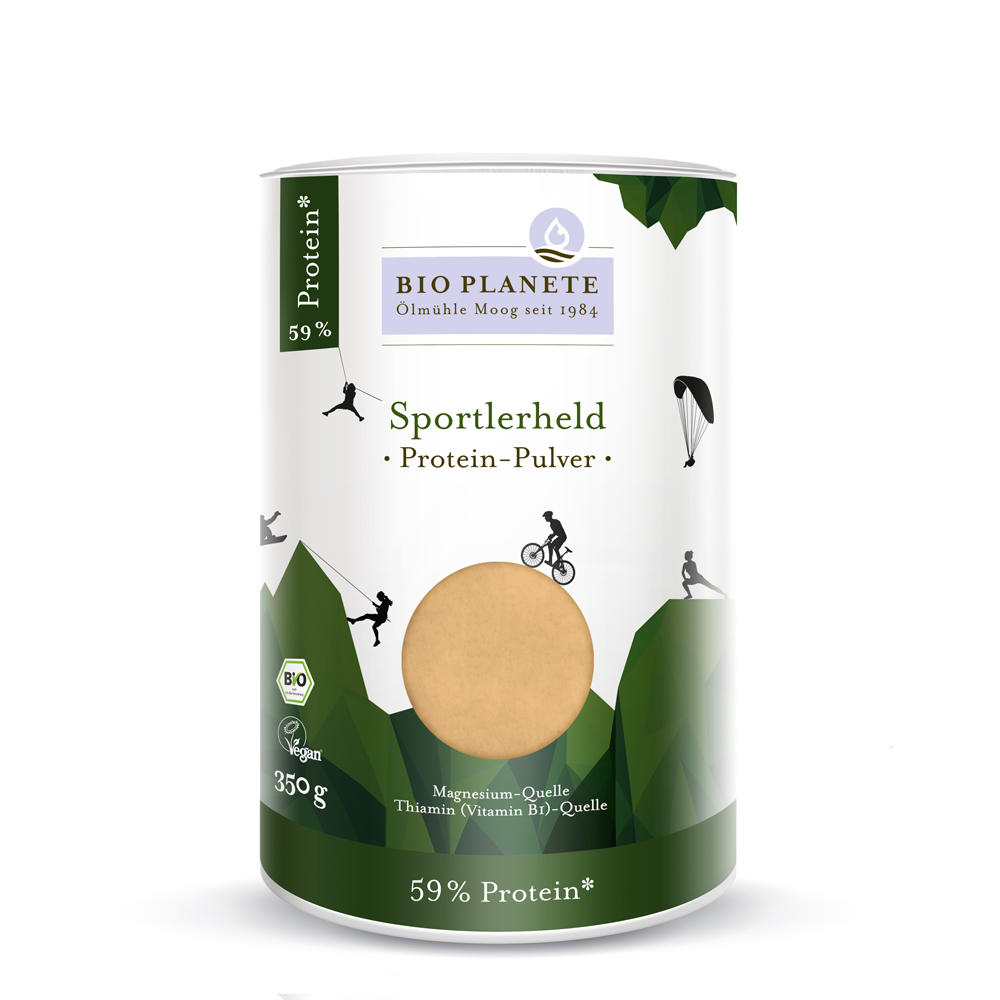 Sports Champion
· Protein Powder ·
350 g
There exist various protein powders for sportspeople, but they are often sweetened and flavored. As a healthy alternative, BIO PLANÈTE now presents Sports Champion: a powder with 59%* protein that does without added sugar or flavor!
The pleasant taste comes from the protein-rich peanut flour, which has the additional bonus of being a fair-trade product. Banana adds a touch of sweetness and acerola provides a high Vitamin C content (36% of an adult's daily intake per serving!).
In contrast to many conventional protein powders that work with soy or rice protein, here high-quality German-grown lupine protein is used.

As well as its high Vitamin C content, Sports Champion is also rich in magnesium, Vitamin B1 and folic acid, making it a valuable source of energy for anyone required to deliver a top performance! It is straightforward to use: stir 50g / 1¾ oz of powder (about 5 tbsp.) into 500ml / 16 fl. oz of liquid, preferably an oat drink or another plant-based milk substitute, or prepare in a blender / shaker.
Smoothies, juices, yogurts and mueslis can also be quickly and easily enriched with Sports Champion to stave off hunger for longer.

Sports Champion is lactose-free, vegan and on sale at organic food outlets from November 2018.
Ingredients
Peanut flour* (partly defatted) 45%, lupine protein* 43%, banana powder* 11,8% (freeze-dried), dried acerola powder* 0,2%
Origin **
Germany Or: EU / non-EU agriculture
Origin **
China, Ecuador, Brazil
Feeding Instructions
Suitable for vegetarians and vegans.
Allergy Notes
May contain traces of gluten, almonds, hazelnuts, walnuts and sesame.
Storage Information
Keep tightly sealed in a cool, dry place and out of direct sunlight.
* Product of organic farming
** For this product, the raw materials may in some cases originate from other countries. This especially holds true in cases of crop shortfall, or when batches of raw goods do not meet our quality requirements. In any event, the raw material are being tested by BIO PLANÈTE and are in 100% compliance with our strict organic quality requirements. The respective origin is always noted on the product label.
** This product contains a finely composed mixture of different ingredients. As a rule, the main ingredient originates from the country mentioned here. Should the proportion of ingredients be equal, more than one country will be declared. Should any questions regarding product origin arise, please contact us: contact@bioplanete.com or +33 (0) 4 68 76 70 6
energy
1.674 kJ (400 kcal)
thiamin (vitamin B1)
0,5 mg
(54 % **)
folic acid
154 µg
(77 % **)
vitamin C
58 mg
(73 % **)
magnesium
136 mg
(36 % **)
Average nutritional values per 100 g
** Percent Daily Values are based on a 2,000 calorie diet.
CONTAINS NATURALLY OCCURING SUGARS.
Ensure that your diet is varied and balanced, and your lifestyle is healthy.