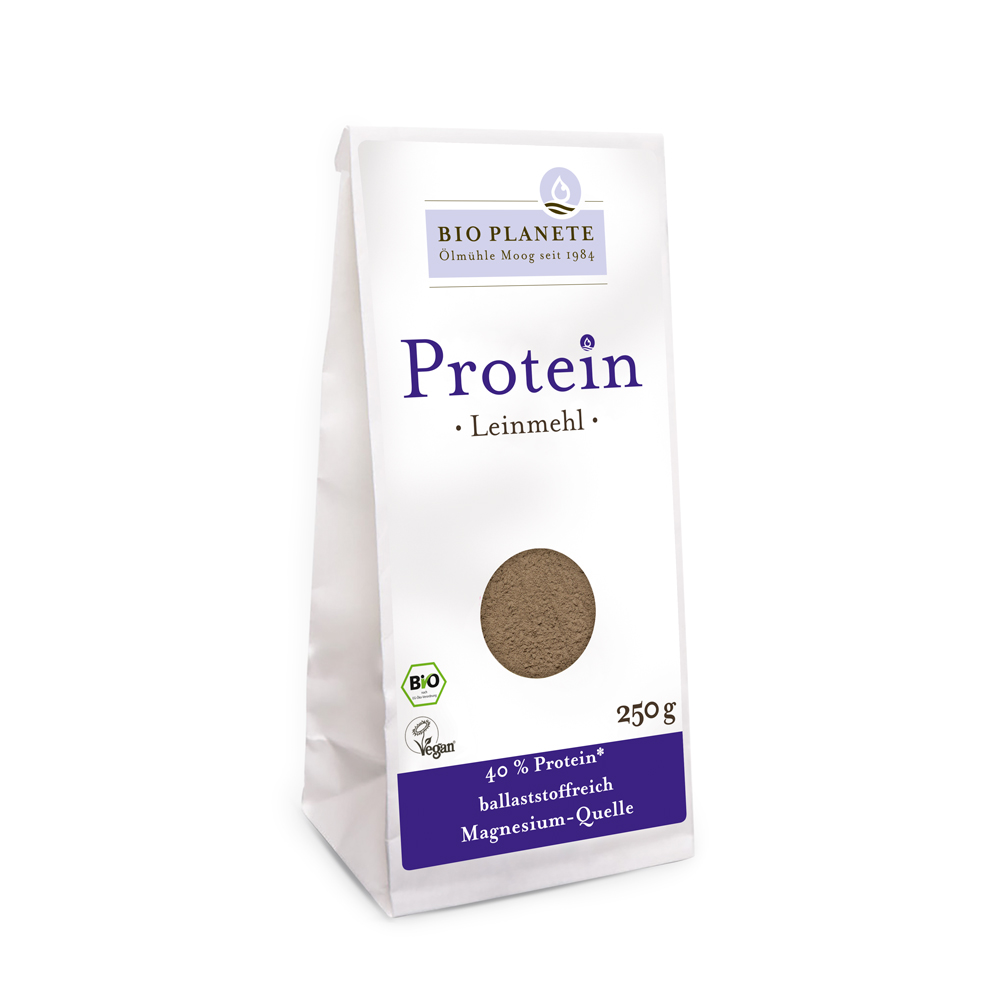 Protein Flaxseed Flour
· Flour ·
250 g
This flour with its flavor of seeds and nuts is produced from the seeds of German flaxseed plants. After the oil has been gently removed, they are ground into a fine flour which does not just have a delicious nutty flavor but is also particularly rich in protein: at 36 %, 100 g of BIO PLANÈTE Protein Flaxseed Flour contains ten times as much protein as milk (1.5 % fat: 3.4 g) and three times as much as standard all-purpose wheat flour (11 g). This makes the Flaxseed Flour the perfect substitute for some of the wheat flour, for example, in bread, cookie or muffin recipes. As the flour is naturally free of gluten, it is the perfect choice for gluten-free baking. Its liquid binding qualities are a very good way to thicken sauces.

By the way, the fine Flaxseed Flour also forms the basis for our ready-made protein powder »Breakfast Champion«. Pepped up with aronia berries, bilberries and orange zest, it can simply be mixed into muesli and smoothies to provide the energy to get through the day.

Tip:
Recommended daily intake: 2 tbsp. (20 g), which contain 6,6 g protein*
Flaxseed Flour has a highly absorbent effect. Make sure to drink enough liquid with the product. Add an additional 20 ml of water per 10 g of Flaxseed Flour to recipes.
* Reference quantity for an average adult (8.400 kJ / 2.000 kcal)
Ingredients
100 % pure Flaxseed Flour*, partially defatted.
Feeding Instructions
Suitable for vegetarians and vegans.
Allergy Notes
May contain small amounts of gluten, peanut, hazelnut, mustard, lupine, walnut, almond and sesame.
Storage Information
Keep tightly sealed in a cool, dry and out of direct sunlight.
* Product of organic farming
energy
1.301 kJ (314 kcal)
thiamin (vitamin B1)
0,5 mg
(45 % **)
vitamin B6
0,7 mg
(50 % **)
folic acid
116 µg
(58 % **)
magnesium
500 mg
(133 % **)
Average nutritional values per 100 g
** Percent Daily Values are based on a 2,000 calorie diet.
Not suitable for making baby food.