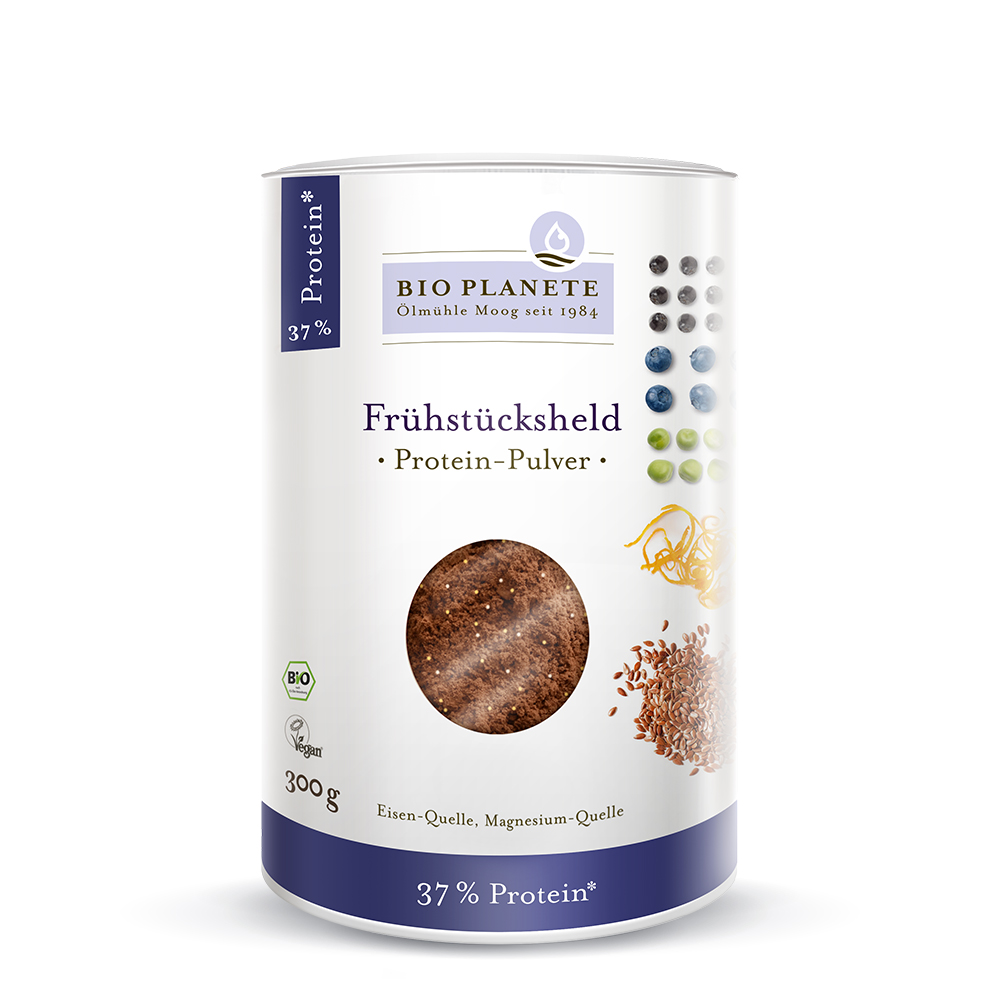 Breakfast Champion
· Protein Mixture ·
300 g
Start your day the healthy way with BIO PLANÈTE Breakfast Champion! The latest studies show that breakfast, which is so important, is often low in protein. Yet human beings need proteins every day, spread evenly across the day, to build muscles, organs and cells. We have developed Breakfast Champion to fill precisely that gap: just 3 tbsp. provide almost an extra 10 g of pure vegetable protein – perfect for people who need a lot of protein, such as sportspeople, senior citizens and vegans.

Breakfast Champion is a carefully composed mixture of 100 % natural ingredients. The main element of the composition is the new BIO PLANÈTE Protein Flaxseed Flour, made of locally grown flaxseed. Finely grated orange zest and the native »superfruits«, aronia berries and wild blueberries, add a pleasantly fruity touch.

The fine powder provides an impressive protein content of 31 % and is also rich in iron and magnesium. These minerals help maintain a normal energy metabolism and reduce fatigue. The high fiber content makes it lastingly filling, preventing hunger pangs and providing energy to get through the day. BIO PLANÈTE Breakfast Champion is also one of the few protein mixes to get by with no added sugar!

We experimented for a long time to find the perfect balance between protein and taste. The result can be used very easily to liven up smoothies, shakes, muesli, oats, quark and yogurt, raising their protein content – especially when you're in a hurry in the morning. The protein and fruit powder also adds extra taste and nutrient content to home-made ice-cream, cakes, cookies or granola.
Ingredients
Flaxseed flour*, partially defatted 54%, aronia berry powder* from dried aronia berries 15%, wild bilberry pieces* freeze-dried 15%, pea protein powder* 12%, orange zest* freeze-dried 4%
Feeding Instructions
Suitable for vegetarians and vegans.
Allergy Notes
May contain small amounts of peanut, hazelnut, walnut, almond, lupine and sesame.
Storage Information
Keep tightly sealed in a cool, dry and of direct sunlight.
* Product of organic farming
** This product contains a finely composed mixture of different ingredients. As a rule, the main ingredient originates from the country mentioned here. Should the proportion of ingredients be equal, more than one country will be declared. Should any questions regarding product origin arise, please contact us: contact@bioplanete.com or +33 (0) 4 68 76 70 6
energy
1.395 kJ (334 kcal)
magnesium
204 mg
(54 % **)
Average nutritional values per 100 g
** Percent Daily Values are based on a 2,000 calorie diet.
CONTAINS NATURALLY OCCURING SUGARS.
Not suitable for making baby food. Should not be eaten by children or pregnant women.